Do you dream of taking your family on a fishing trip of a lifetime? One that each family member will remember all their lives? Do you crave to be in spectacular pristine wilderness? On a clear lake where several species of awesome fish thrive in a balanced ecosystem (because that makes the fishing so much better!)?
It is time to get serious about making that Ontario family fishing vacation happen. Until you develop a plan, that vacation at a Canada fishing lodge is just a dream. Planning starts with asking the right questions. Here are 7 of them.
Before you start looking for a fishing lodge in Canada
There are a couple of ways to find your ideal Canadian fishing lodge. Word of mouth is still one of the very best ways. Ask your fishing buddies and their fishing buddies.
And then there is an internet search. Everyone knows how to Google 'fishing lodges in northwest Ontario'. Gather your family in some fun way to discuss the kind of family fishing adventure they want to have together.
Here are the questions you can pose to them.
1. What kind of experience do we want?
Freshwater or saltwater?
Freshwater will give you more options, more variety. Saltwater fishing can offer more challenge and danger.
Fly-in fishing camp or drive-in?
Very remote fishing camps with fly-in only access used to have a reputation for providing a superior fishing experience. They typically have fewer anglers competing for the same fish. The quality of fly-in fishing camps has not changed.
However, the fishing experience at many of the other fishing camps and resorts in northwest Ontario has improved. This is due to careful management by the Ontario Ministry of Natural Resources and Forestry.
For example, Wildewood on Lake Savant used to be a fly-in only camp and is still not accessible directly by car. However, now guests can drive to within 5 miles of the resort with all their baggage and gear and be met by a camp van with a trailer for their gear.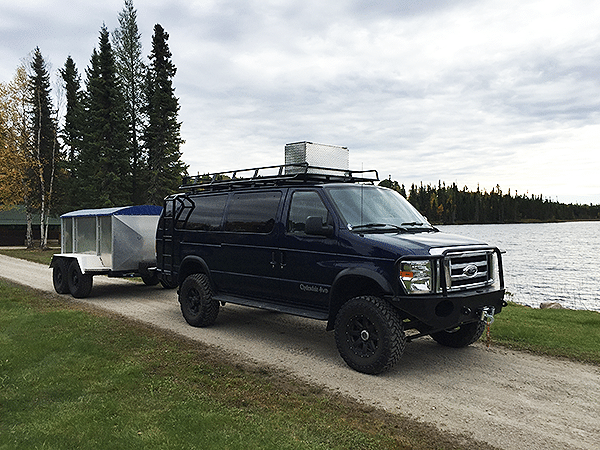 This resort is located on a world-class fishery in the top 3% in Ontario fisheries. So, in essence it is a fly-in camp fishing experience with all the advantages of being a drive-in location. Plus, Wildewood on Lake Savant is much less expensive. Our guests consistently rate us 5 stars on Tripadvisor.
What species of fish do we want to fish for?
The lakes and rivers in Ontario have 158 species of freshwater fish. We recommend these game fish: bass, muskie, pike, trout, and walleye for the thrill of the catch and crappie and perch or the smaller trout and walleye for your shore lunch.
What kind of accommodations do we want/need?
Accommodations run the entire range from very primitive to very posh. Price does not necessarily follow inexpensive to expensive. Your very primitive accommodations at a fly-in fishing camp can be very expensive. Decide together what you need.
2. What is the best time of year to have that experience?
Is weather a big factor for members of your family? The weather is always variable throughout the year in Ontario, but cooler in the spring and fall. Winter ice fishing is possible, but only for certain species. If you want a nice time of year that may offer more of a variety of activities, good weather, fewer bugs, and good fishing, try booking a trip from mid-July to late August. Find out when open season is for the species you want to fish here.
3. Do I need to hire a guide to improve that experience?
How much fishing experience do members of your family have? If someone in your family knows how to fish, you will catch fish in Ontario.
You only need someone to give you an orientation on the lake that you choose and some pointers on how to catch the species you are after in that particular lake. This can vary a little bit from lake to lake.
After you select a fishing lodge in Canada (or narrowed it down to a few)
4. Is there a limit on the amount/weight of our gear?
This is a very important question to have the answer to before you leave home. A boat is almost the only fishing gear provided at a fly-in fishing camp. Due to the small plane you will be flying in on, your weight restrictions will be significant. Here is a 5-minute video where an avid angler describes how he packs for a fly in Canadian fishing vacation.
A drive-in fishing lodge or camp will not have any restrictions on the gear you can bring.
5. Can we drive to our fishing lodge?
Check the website of the fishing lodge or camp. Or give them a call.
Lots of things about your fishing adventure will be driven by the answer to this question. Things like the amount and weight of your baggage and gear. Also, the kind of accommodations, the amount of food you need to bring, access to town amenities, and associated expenses.
6. What experience does the fishing lodge management team have?
The more experience the management team of the fishing camp or resort has, the smoother everything will run during your stay there.
Everything is likely to be in good order at the start of the season (staff, cabins, boats, freezer, generators, vehicles, etc.). After that, stuff happens pretty quickly. When it does, experience on site gets things resolved faster and better. Ask about this.
7. How much experience do the fishing guides have on the specific lake we will be on?
Your fishing guide needs to be more than an experienced fisherman. He or she needs to have lots of experience on the lake your fishing trip will be on. They need to add to your experience by showing you how your species of fish behave on that body of water at that time of year.
I have not been able to cover all the questions you likely have about planning for your ultimate family fishing vacation in Ontario. But I am more than willing to answer any additional questions you have. Please contact us here at Wildewood on Lake Savant.
Telephone:
Summer Months Call: (807) 584-2999
Winter Months Call: (715) 892-1985

Mailing Address:
Wildewood on Lake Savant
5929 Fishtrap Resort Ln
Boulder Junction, WI 54512

E-mail: 

[email protected]